Recent blogs



Ken's FREE blogs:
stories of fundraising,
communication and
the meaning of life.


•Rethinking how we ask
and how we listen.
• Where now for
fundraising?
• China: the fundraising
dragon awakes.



Introduction to the
future of fundraising
5-part series.




Here, now. Ken's new book.
Click here for details.
Charlie Hulme, Rob Woods and Joe Jenkins review Storytelling for SOFII, here.
Click here to order .






How
'Relationship Fundraising'
changed my life!

Tales from
The Field by the River
• Alzheimer's steals my friend.
• Animal intelligence: How dumb are our feathered and
four-legged friends?
• The deaf dumb and blind kid. About the eating habits of spiders.
• A visit from five white bulls
• Rough sex down by the river.
• My all time favourite review,
A lesson in looking.

Our French house Kermarquer is now sold.
See what you missed
here and here.


The Tiny series: eight
BIG ideas behind eight
really small books


Transformational
consultancy and creativity



Announcement regarding the
Change Your Bank campaign, here.


For all Ken's books click here
or visit The White Lion Press

Ken is also managing trustee for
The Showcase of Fundraising
Innovation and Inspiration.




Click on the chick to follow Ken on Twitter. Contact Ken Burnett here.






Books and articles
by Ken Burnett

Books
Relationship Fundraising
Friends for Life
The Zen of Fundraising
Tiny Essentials of an Effective Volunteer Board
How to Produce Inspiring Annual Reports
The Field by the River
And the latest, Storytelling Can Change the World .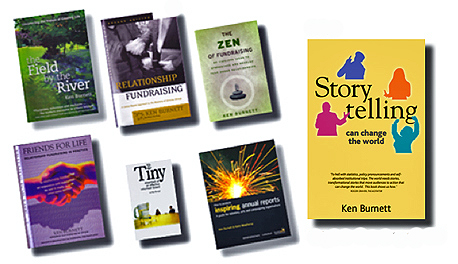 Recently published: secrets of the would-be influencer's most vital skill
Order Storytelling can change the world here, £14.95 (US$ 25.35).
To review why you might want to buy it, have a look here, here and here.
To order or have a look at any of Ken's other books, click here.
For a taste of Ken's approach to storytelling, scroll to the foot of the page...

The Field by the River is now available for Kindle!
Sign up here for Ken's occasional articles and opinions
If you'd like to be informed in advance of opinion blogs and stories from Ken Burnett, please click the button opposite with just 'add me to your blog list' or something similar in the header. You can opt out at any time.
Articles from the fairly recent past
Ken has written for a variety of magazines, journals, newspapers and websites on both sides of the Altlantic, on international development, fundraising and governance.
• Features, book reviews and opinion pieces from SOFII (also see opposite).
• Ken's first ever piece of paid journalism, for She Magazine, A Sudan safari.
• Recent articles from Nepal. • The Guardian newspapers and websites.
• Contributions magazine, USA. • Professional Fundraising magazine, UK.
• General articles. • Provocative, even irritating, but mostly useful blogs.
Copies of many of these articles can be read or downloaded free, just by clicking on the article. Feature articles from seven years of writing for Contributions Magazine, USA. are available free for purchasers of Ken's books.

Hugely generous Tiny gesture from The White Lion Press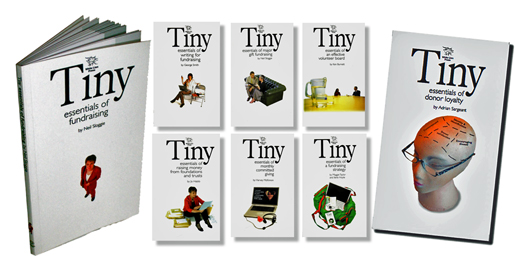 Special offer: £59.60 +P&P for all eight TINY books (£20.00 off)
Don't delay. To review any or all of the books or to order your set, click here.
But hurry! For news of the fire which has destroyed 80 per cent of WLP book, see here.

If you'd like to be informed in advance of blogs and articles from Ken Burnett, please email here or click the button above left and just put 'add me to your blog list' or something similar in the header. You can opt out any time.