Opinion
from Ken Burnett,
writer, publisher,
motivational speaker and occasional fundraising consultant.
Blog 15 April 2014.
Some causes are so difficult it takes nerves of steel just to to sit still through their stories and take them in...
These stories did more than get under my skin. They dug a real hole in me, then filled the space with resolve to do something, now.
Home page.
Recent blogs.
Article archive.

It's invariably powerful
and effective...
If only fundraisers
did more of it, we'd reach more donors more deeply, more often, more surely.




Ken Burnett can be followed by clicking the button above.
Sign up here for
free notification
of future articles
and opinions from Ken Burnett.

Two contrasting approaches to involving and keeping donors came across my radar in the final hours of last week. Taken together they present a warning that, instead of inspiring their donors' socks off with wow moments, fundraisers have too often 'professionalised' and so become logical, dutiful and dull.
The first was an injection of inspiration that caught me at the tail end of Friday afternoon, after a busy week. Up at the Clayton Burnett base on the shores of Loch Ness my business partner, Alan, and our colleagues had just successfully completed a three-day event with the top team from a children's hospice, Claire House, from Liverpool. I'd not been part of our line-up for that event so to keep me in the loop Alan sent me their storyboards – the illustrated slide deck that he and designer Steve Swingler had prepared at the culmination of the event to showcase the nine stories participants had told. The storytellers were some of the hospice's trustees, their senior management, the CEO, some care staff and a few of their fundraisers. The outcome was a set of moving moments that would stop any donor in his or her tracks. Collectively they'd called these tales 'a life story'. I loved that. And the subtitle they chose got me too – 'Help us make every minute count'.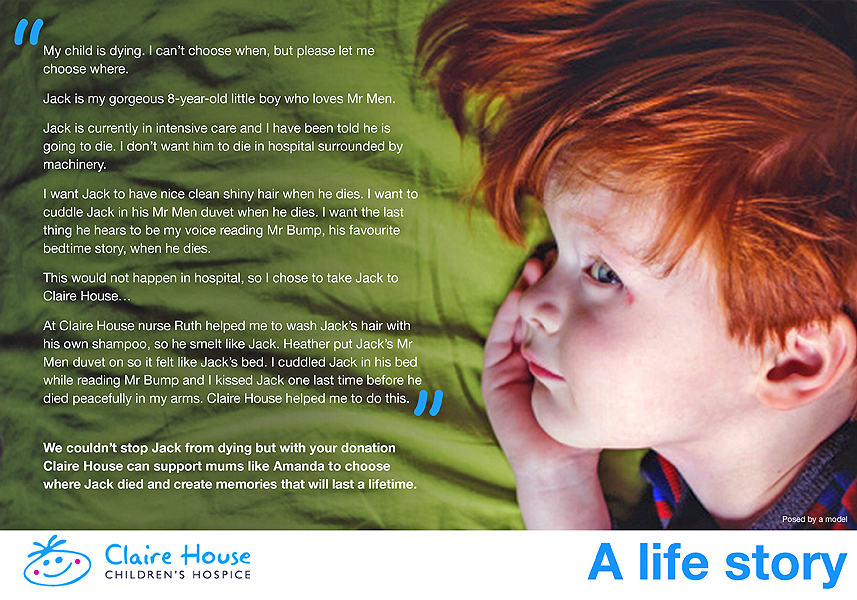 Some causes are so difficult it takes nerves of steel just to sit still through their stories and take them in. Like most folk I'm vulnerable to the emotional maelstrom that inhabits a children's hospice. Claire House's carefully constructed tales though had added passion and focus, so quickly brought me to that tense, fragile, but highly responsive state so conducive to doing something practical and reasonable to help. Their simple short tales of real people told straight from the heart got through instantly, indelibly, because they touched parts of me that rationality and logic could never hope to reach. These stories did more than get under my skin. They dug a real hole in me, then filled the space with resolve to do something, now, to make a difference.

That's what good fundraising is. It combines tears, admiration, elation and a host of related emotions all at the same time. Though often overwhelming, it's invariably powerful and effective. Stories told well, of course. But so well worth telling too.
If only fundraisers did more of it, we'd reach more donors more deeply, more often, more surely. And keep them longer.
The second insight came into my in-box hot on the heels of the hospice and their stories of hope and courage. While I was still soaked in their warm, unsettling glow someone sent me a link to a well-written, well-presented article featured that day in the US journal The Chronicle of Philanthropy. Still weak-kneed from the Claire Hospice stories, the absurdity of this article's central storyline brought me back with a bump.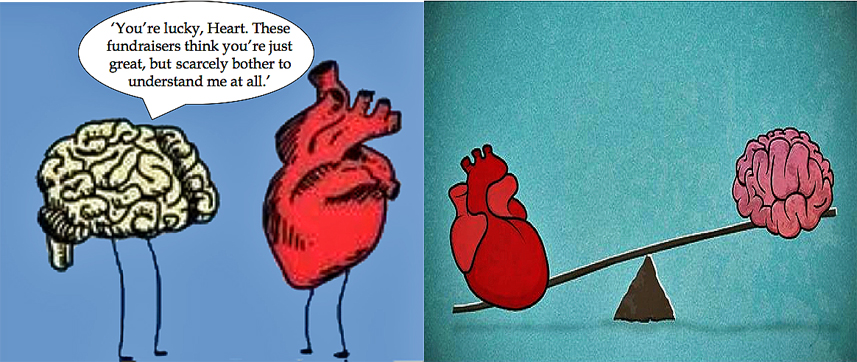 Emotion outweighs logic, of course, every time. It helps to know that both appeal to the donor's brain, only in very different ways.
In his article titled Hewlett Ends Effort to Get Donors to Make Dispassionate Choices on Giving reporter Doug Donovan describes a major donor's decision to pull funding from a failed experiment. He writes,

'For at least a decade, movers and shakers in philanthropy have been trying to persuade donors to behave more like data-driven investors. But the so-called effective-philanthropy movement suffered a significant setback last month when the William and Flora Hewlett Foundation, a prominent champion of the idea, announced that it was ending an eight-year, $12 million effort to get donors to rely as much on their heads as their hearts.'

By this the author meant the foundation expected donors would choose causes in the same way that investors choose stocks and shares, based on rational indices of past performance, analysis of market competitors, hot tips, trends and such like. That's what this foundation had been funding for so long, on such a scale. And what they've only just realised wasn't going to work.

How foolish to even think of attempting such a thing. Effective philanthropy will more likely be aided by managing and maximising the power of the most emotional appeals we can responsibly deploy, rather than trying to squeeze donors into a box of rationality that they were obviously never going to willingly fit.

For the trust set up by the founder of the Hewlett-Packard company, this shift shouldn't have been unexpected. To quote Donovan's article again,

'When Hewlett started the effort in 2006, then-president Paul Brest wrote, "Personal philanthropy may sometimes be so profoundly emotional as to be invulnerable to rational analysis."
Well gee, surprise, surprise! Surely what's odd is that giving a donation to a cause could ever have been perceived as logical. Unless perhaps when it's given to ingratiate, or enhance reputation. Otherwise, logically, a donation makes no sense. Of course emotions, like logic, do reside largely in the head rather than the heart (sorry, the heart is just a pump, get over it).

But though emotions and logic are not mutually exclusive there's nothing irrational or imprecise about fundraisers' careful use of emotions. By now, we all know all this. So isn't it time some people collectively and finally got over their discomfort and distaste with the emotions that drive responses to all of our causes? Those who can't really are in the wrong job and should, for the good of all, get out and do something else.

It would be far better, surely, for the Hewlett Foundation to support efforts to understand and manage better the causes, triggers and uses of emotions in fundraising. Those efforts it seems are in too few hands. Other than the Loch Ness crew, only Adrian Sargeant and Jen Shang, Francesco Ambrogetti and Tom Ahern spring to mind. And as far as I'm aware, none of these fine folks get any discernable financial support from anywhere for their endeavours in this particular sphere. Investing here would not lead to failure, for sure.

There is a place for the logical case of course, and an important one. But it should be presented clearly and very concisely, so that it's unarguable. Then its reassurance, once digested, can be put to one side, its evidence accepted, while the donor gets on with revelling in the warm, emotional reasons that fundraisers give them, that show them why they should care so much that they'll gladly give generously, willingly and for a very long time.
Being a donor is, by definition, illogical.
That's no bad thing.
Not everyone is a donor. Many are not likely to be donors, ever.
Many people just don't get being a donor at all.
Some of them work in fundraising.
It's undeniable that the power of emotion trumps logical argument, no contest. Logic moves people to applaud. Emotion moves people to tears, anger and action. Deploying such powerful forces is an awesome responsibility that must be handled with care and expert knowledge. Beware of the power and volatility in what you preside over, you fundraisers.

But we have to do it, and the measure of our real professionalism is when we do it very well. To paraphrase songwriter Paul Simon, there must be, at the very least, 50 ways to move your donor.
Just spread round the joy, Roy,
Tell a good story, Rory,
Deliver the truth, Ruth,
And set yourself free…
Now, I'm off to read Mr Bump, and I'll probably also think a bit about young Jack.
© Ken Burnett 2014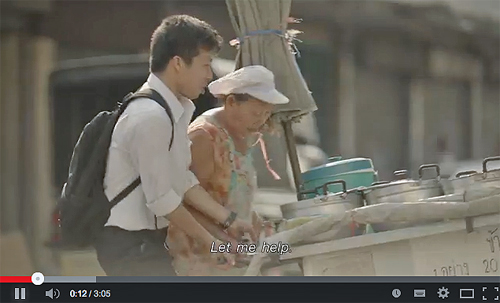 Not convinced? Click the pic above to see how an insurance company in Thailand gets it.