A travel article
from the
archives of
Ken Burnett, writer, publisher and occasional fundraising consultant.
Contact Ken here.
Archived article No 1
from She magazine 1981.
From 1979-80 Ken and Marie Burnett spent just over a year travelling on the road, a seminal journey that took them all round Europe into North Africa and across the Sudan to Ethiopia and Kenya, returning via Moscow then from Greece through Bulgaria, Romania and Hungary into Austria.
This is a bit of a one-off, my first ever attempt at paid journalism from She Magazine, dating back to 1981. I was paid £50.00 for the article and a further £50.00 for the photos. I thought I'd made it. Maybe I should have stuck to travel writing...
The piece is rather roughly pasted together and a bit faded in places but hopefully it's worth it and this is all that's left. My last copy of the original was lost in our fire (see here.)
The idealogically unsound line drawings are She Magazine's, not mine.'
Here one learns the Arabic Bukara – tomorrow, and Inshallah – God willing.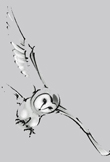 Tales about natural history, from The Field by the River:
• Animal intelligence,
• The adventure of the five white bulls.
• Rough sex down by the river.
• Alzheimer's disease has stolen my great friend.