Worry 1
Fundraising regulation may seem boring and complicated but it's also massively important. Charities can't afford not to get this right.
Recently, at a meeting of leading fundraising directors, one of the assembled group said, 'My job now is managing decline'. About one third of the gathered FRDs agreed with him, slightly more did not, with the others undecided. At the time, I thought he was being overly pessimistic.
The drift to 'opt in' has had me fearing he may not be far wrong.
Worry 2
I've long hailed the late Mrs Olive Cooke as a potential patron saint for fundraisers. Dramatic change in fundraising practices is long overdue and, despite their inaccuracies, the media storm generated by the story of Mrs Cooke's relationship with fundraising charities just before her untimely death seemed a sad, uncomfortable tale that should have positive outcomes.

Many hoped it would push our sector towards a renewed realisation of its responsibilities to donors, leading to a timely overhaul of fundraising practices, in turn stimulating new promises to donors and the prospect of a consistently improved donor experience.
Premature reaction to impending regulatory changes had me fearing fundraising might be irreparably damaged before that change has time to take effect.
These two fears therefore are inextricably linked. Whether the price the UK voluntary sector has to pay for progress will be too high, or not, is now firmly in the hands of the regulators. My take on the Information Commissioner's second letter, just received, is that any charity deciding to go the opt-in route now doesn't yet have all the facts, so should wait and see.

Which is something of a relief, for both those worries.
Here's why I fear the system known as opt in. If charities lose half of their donor file, or more, what will happen to legacy income, down the line? Or more immediately, what will happen to regular giving, or general donations, special events, charity catalogues and just about everything that charities do? The cost of replacing so many expensively recruited donors would be astronomical. Prohibitive. If charities lose half or more of their donors, what will happen to children or animals suffering abuse, to people waiting for life-saving bone marrow matches, to end-of-life care in hospices and an endless host of other urgent human needs? Not to mention the loss of confidence among generous charity supporters that their giving really does make a difference. What will happen to the legions of caring but not particularly close donors who, in their thousands, happily set several charities up for a fiver or a tenner a month by direct debit ages ago and are quite content just to let that run? If active, confirmed consent is construed as the be-all and end-all, what will happen to the donors who only respond when asked for a need that, not surprisingly, they knew nothing about before being asked because up till then the need simply hadn't arisen, or they were unaware of it?
Both the UK's Information Commissioner and the Fundraising Regulator have recently issued guidance on the subject of consent, including clear statements of preference from both for 'opt in'. Readers of my most recent blog will know I'm deeply concerned about the unforeseen consequences of this preference if trustee boards and others are encouraged to see it as the only option they can safely follow.
The first letter opposite was sent to both the Fundraising Regulator and the Information Commissioner on 13th March. Giles Pegram and I put the main thrust of what's in the second letter to Gerald Oppenheim and Stephen Service of the Fundraising Regulator when we met with them just before Easter.

The second letter calls for the guidance to be revised to make it clear that,

• For some channels (eg communicating by post) there are viable, acceptable alternatives to opt-in consent, for charities.

• 'Legitimate interest' is a valid basis for communicating with donors, under which charities can send them, by post, details of the work their donations have supported.

• Best practice consent based on opt in could have damaging consequences for donors, and for the causes they have supported, in lost income and lost donors.

• Though opt out cannot be used as a route to consent, legitimate interest is valid, particularly if it can be a way of providing donors with choices that enable them to control what they do or don't wish to receive from causes they have supported.
As you'll see from these letters opposite I've also asked for further confirmation that the system known as continuous donor choice, see opposite, will be a valid, permissible route to communicating with donors beyond the introduction of the GDPR regulations in May 2018.

I had hoped that the the Information Commissioner's reply to the questions above would dispel the widespread anxiety on the issue that seems to grow by the day. It hasn't. Instead, we have to wait. Which should mean just that, no hasty, partly-informed decisions, from now.
Hopefully, wisdom and common sense will prevail so donors will be given all the control and choice they need and charities will be free to go about their essential business unhampered by pointless restrictions that can only harm the great social good they deliver, day in, day out, for all.

Continued top of column 2, above.
Opt-in update 4 October 2019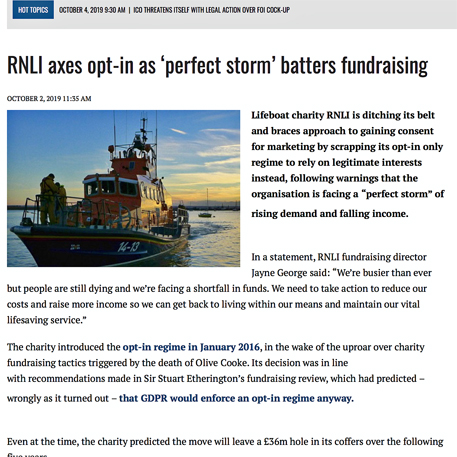 In the above article from Decision Marketing the wonderful Jayne George is credited as having 'admitted that while 'well intentioned', the opt-in decision has had a bigger impact than anticipated in reducing the charity's ability to attract new supporters, raise funds, share safety advice and engage with people.' Well, fancy that! Who knew?
---