Opinion
from
Ken Burnett, writer, publisher and occasional fundraising consultant.
Click here for part 2 of this feature:
Reckless opportunism versus the dead hand of risk-aversion.
'How foolish some people can be, not to even look into what's around.'
'It's because you are the first charity to listen
to me', he said. 'None of the others would even give me a hearing.'
More blogs on fundraising and communication
• Welcome to the Happy Bubble.
•How to turn talk into action.
•Is it time for Twitter suicide?
• The future of fundraising.
• Is direct mail dead?
• The donor pyramid isn't well either.
• The fundraising dream team.
• The transformational fundraising entrepreneur.
• The indispensable guard book.
• Prepare for the fundraising trustee.

Transformational consulting and creativity.



Ken Burnett can be followed by clicking the button above.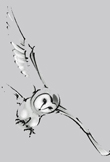 Tales from The Field by the River:
• Animal intelliegence,
• The adventure of the five white bulls,
• Rough sex down by the river
• Alzheimer's disease has stolen my great friend.
And also a special
from the distant past,
A Sudan safari.
On the morning after new year's eve I called my old friend David to find that, not surprisingly, he had a hangover.

'I feel as if I have a large roll of grubby carpet in my mouth', David said, rather hesitantly. 'What time is it? What day is it?'

I looked at my watch, which is digital. 'It's 11.11.' I said. 'On 1.1.11.' The singularity of that moment struck both of us immediately. Then, as I looked amazed at my Swatch watch, it changed to 11.12. And before I could explain it to anyone else, the magic moment was gone. Carpe Diem. You have to seize the instant, or if not that, at least you have to seize the day.

Then, while still talking to David, I found that my old watch was actually two minutes slow. If it had been on time, that moment would never have happened.

All this is just a roundabout way of saying that we create our own moments of magic. And we have to grab them quick, or they will vanish.

It made me think of some of my biggest disappointments of 2010 (which, I hasten to stress, was on the whole a very positive year for me). Invariably, the disappointments revolve around magic moments that someone else has failed to seize.

Like the chance of a transformational major new campaign.

Alan Clayton and I have suffered this at least three times in the last 12 months, for as many clients. As I review this end of year I can think of at least as many instances in which Alan or I have presented client organisations with genuinely great opportunities only to find that, for one reason or other, the status quo has held sway and nothing has been done, despite universal acceptance at the client end that, yes, this should and could be a goer.

It was ever thus. Clients are timid, frightened creatures in the main, too often unable or unwilling to grasp real opportunities for fear that this might render them liable to criticism, or that the suggested initiative might fail. Or that it might entail extra work and inconvenience or,… well, whatever.

One day many years ago a print rep came to see me and showed me a new format his company had developed for a loose insert, something I'd never seen before. 'Did we want to be first with a world-beater?' he asked. It turned out that this opportunity was just what we'd been looking for, so we grabbed it eagerly. The resulting promotion's sudden appearance transformed our fundraising results and catapulted me and the charity I was working for directly into the big league. It made my career.

The full story of this transformational opportunity is told here and here, on SOFII.

The thing was that, just as I was risking everything to grab this opportunity, I was troubled by a single simple question. I wondered, 'Why me?'

Why was the tiny charity I worked for – ActionAid – being offered this incredible, transformational idea, when all the big charities – NSPCC, Oxfam, Amnesty, the National Trust – were not?

The print rep told me exactly why as, his first ever order safely secured, he made ready to leave my office.

'It's because you are the first charity to listen to me', he said. 'None of the others would even give me a hearing.'

So I prospered directly from this failure of the big charities to 'seize the day'. ActionAid soon found itself a top twenty charity, thanks largely to this transformational opportunity. As for me, I never looked back either. But I often find myself marvelling at this seemingly endemic condition in non-profit organisations, the foolish inability to recognise and grasp an opportunity, to fail at the moment it is offered to take a calculated risk – the seemingly endless propensity fundraisers have to look gift horses directly in their mouths and not to notice anything.

And I still wonder – as I did this past year with the three client charities that I mentioned at the start of this article – just why is it that some people are able to grab opportunities with both hands, while others hold back, hesitate and, eventually, do nothing?
I don't know the answer. And that saddens me.
© Ken Burnett 2011

Visit SOFII to read more from Ken Burnett, including:
What makes an effective trustee board, the 29 essential foundations of fundraising, secrets of headlines that pull, the 11 pillars of fundraising wisdom, a debt to the master, David Ogilvy, the NSPCC Centenary Appeal, what happened to Make Poverty History, the 15 things I would do if I were the new head of donor development... And lots more.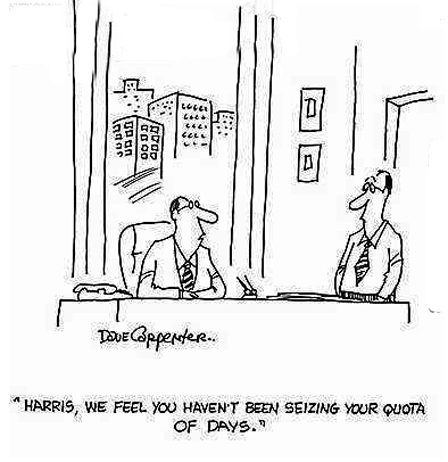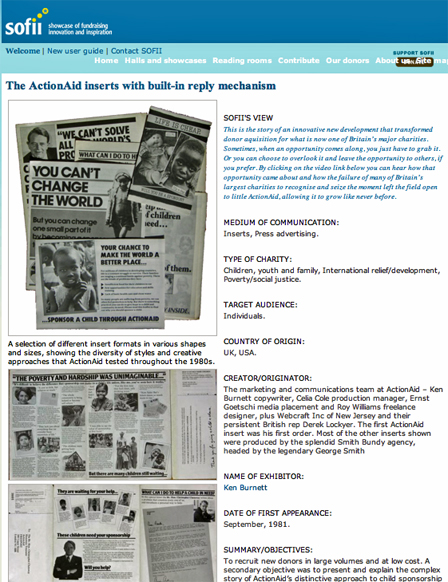 The ActionAid insert story is told on SOFII, here.
Readers' comments
There have been a few interesting reactions to this post and its follow-up. I've only put one comment up on the site so far, here, though more will follow soon. It's to the follow-up, and it's an interesting viewpoint, I think you'll agree.

Ken Burnett is a director of the Clayton Burnett consultancy firm and The White Lion Press Limited. He is author of several books including Relationship Fundraising and The Zen of Fundraising and is managing trustee of SOFII, The Showcase of Fundraising Innovation and Inspiration. For more on Ken's books please click here.
Sign up here for more OPINIONS coming soon
If you'd like to be informed in advance of opinion blogs and stories from Ken Burnett, please email here with just 'add me to your blog list' or something similar in the header. You can opt out at any time.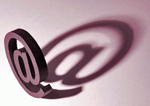 Disagree with Ken? Or agree with him, even? Have your say here.
Email your comment now to Ken and we'll put it directly on the site.