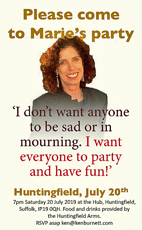 A celebration
On Saturday 20th July 2019 in the village of Huntingfield, Suffolk, more than 110 of Marie's family and friends from all corners of the world came together to celebrate a life well lived.
Marie Burnett, nee Hawkins
Born 4th December 1949. Died 6th June 2019. In between she lived life to the full, loved and laughed lots and lit up our lives.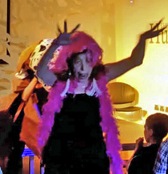 Click on scary Marie above for the film and on your invitation at top of this column for your copy of the party brochure.
---
With grateful thanks to David Burrows for putting the film together so expertly. And to Nick Allen and others who supplied these photos, plus to Sheila, Esther and Sue for the flowers. Also thanks to all who came to the party, particularly the people of Huntingfield, who were such excellent hosts and to those who came from further afield, who were such delightful guests.
The Great Huntingfield Brain Robbery part 1.
The Great Huntingfield Brain Robbery part 2.
Oops...someone's stolen Santa's sleigh! And Rudolph!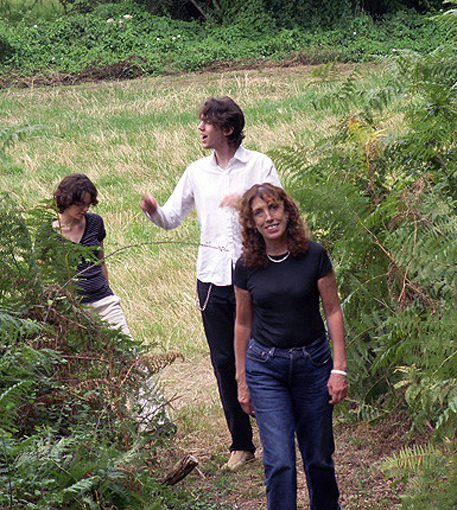 Marie with Rozenn and Joe in the field by the river, some years back. Rozenn flew in for 18th June and sent the flowers seen on the top table, to represent her at the party.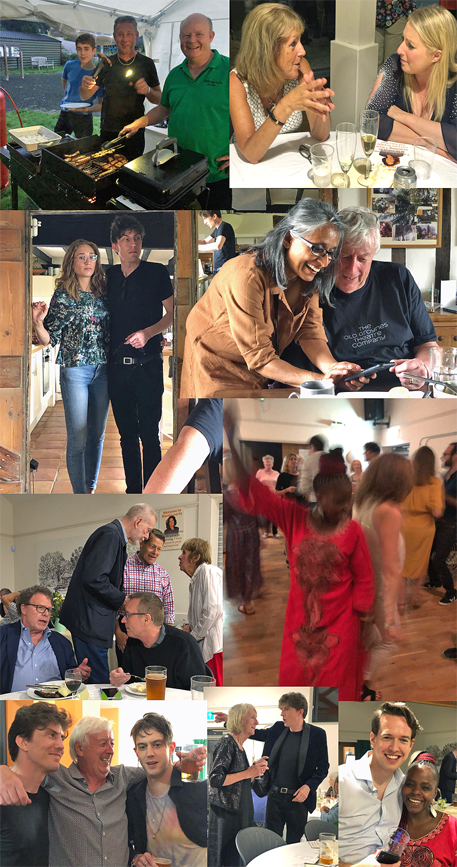 Party pics, clockwise from top left: Steve B, Steve T and young James, Viv and Grace, Sandra and Ken, Phiona and Alicia dancing, Phiona with John K, Charlie and Jos, Marie's boys, Roger, Bill, Sean, Ernst and Esther, Charlie and Räphaelle.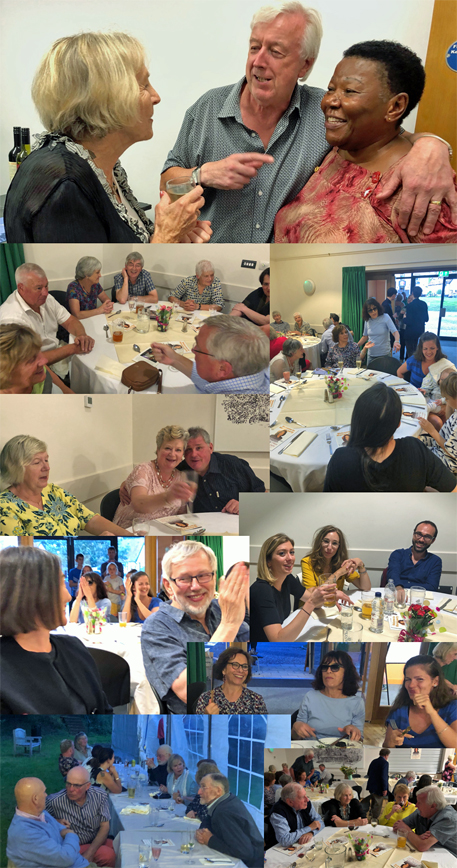 More party pics. Clockwise from top left: Ken introduces Noerine to Stella, Catherine's table, The Frenchies, this time including the great Pierre Lafitte, Fricker, Catherine and Sarah, John Hambley, Stella and Carol, the outside crew: Brian, David, Roger in the foreground with others including Barbara and Nigel behind, Harvey and Christiana, Joan, Steve and Maureen, Arthur, Sheila, Andrew, Rosemary, Jane and Robert.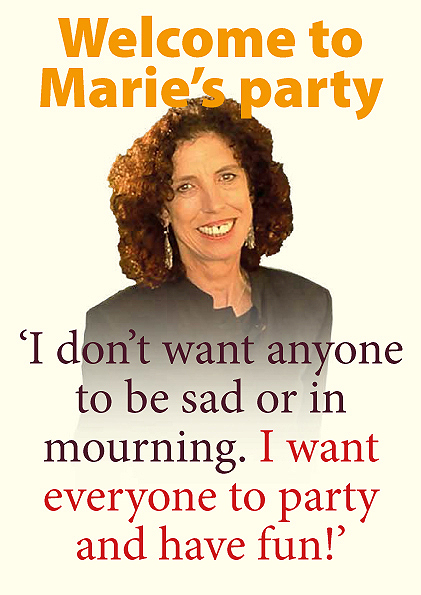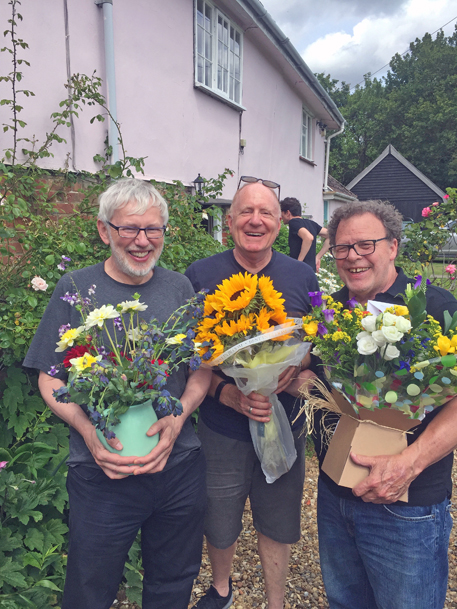 Fragrant blooms from the New World, right to left, Roger, Nick and Harvey outside Hill Farm House. Such lovely boys, such lovely smiles!
---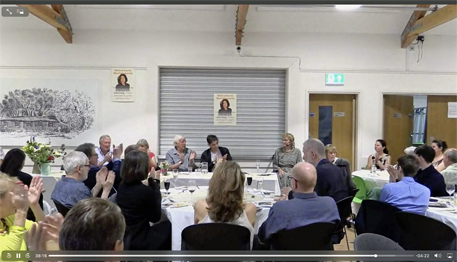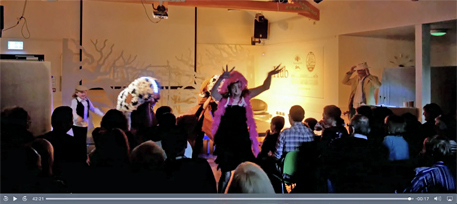 Click on any of the two images above: to see the opening speeches at Marie's party and Marie's 'Hey Big Spender' moment from The Hunt for the Huntingfield Sausagerous.
Click the invitation at top left: for the beautiful 12 page brochure Roy Williams designed for Marie's party.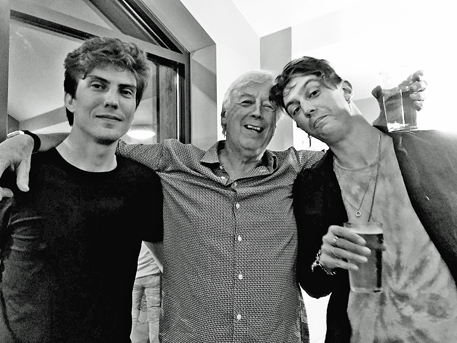 Charlie, Ken and Joe at the Hub. More party pics are below.
---
Thanks Marie, for a great party.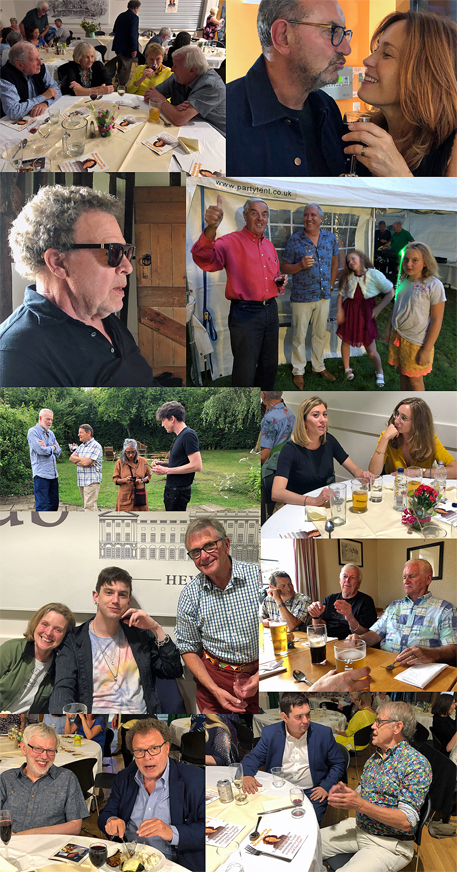 More party pics, clockwise from top left: John, Stella and Carol with Ken, Mel and Karin, Allan, Mike, Bronwen and Olivia, Chloe and Räphaelle, Ernst, Ken and Peter, John Burton and Craig, Harvey and Roger, Celia, Joe and Tony, Bill, Ernst, Sandra and Charlie in the garden of Hill Farm House. A contemplative Roger – or is that shell-shock?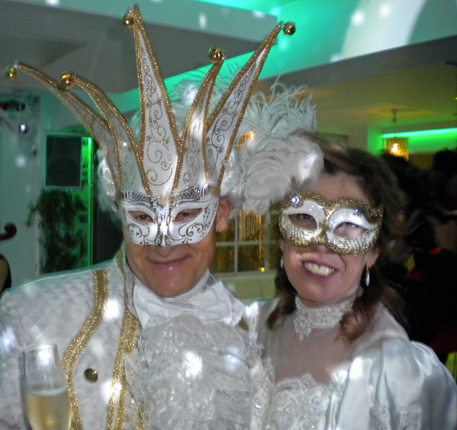 Ernst and Marie in London earlier, normal weekend wear.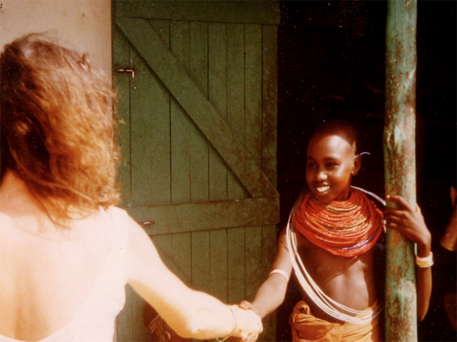 Marie in Turkana, Kenya, 1980. For more on her adventures in Africa, see here. (In that article, Marie is the solitary figure at right of the tractor.)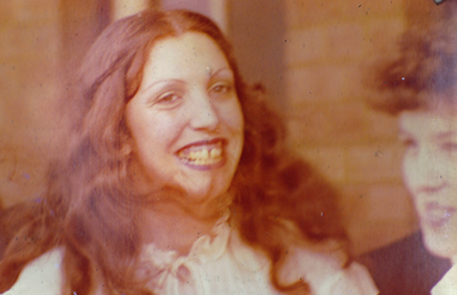 Marie on her wedding day, 29th March 1976. See film and brochure.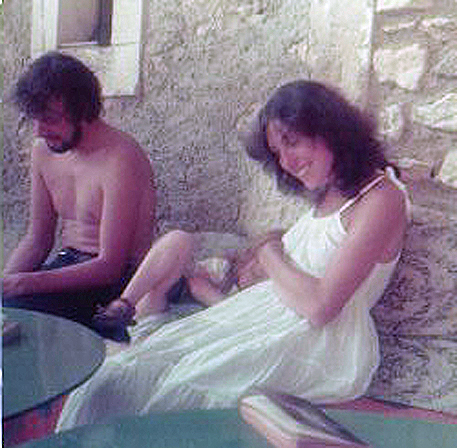 Marie in Mas de Rossignols, St Remy de Provence, 1979, the Brenda tour. See film and brochure.
Thanks Marie, for everything!
---