In this second of two articles marking the launch of the Institute of Fundraising's Proud to be a fundraiser campaign Ken Burnett explains why success for the campaign should be judged by our sector's ability to improve the donor experience.
What George says, above, is undoubtedly true. He goes on to suggest that the majority of today's supporters are different from the traditional kind for the simple reason that they've been recruited. They've not come forward themselves as volunteers. Instead fundraisers have used a variety of techniques to push them into their support of our causes. Given the superficiality and artlessness of so much donor acquisition these days it's hardly surprising that we lose many of them so soon after they join us.
People recruited in these ways need very special treatment to encourage them to stay and become real donors. Being a donor is voluntary, a matter of free choice. Stopping a stranger, bending his or her ear then pressing him or her to sign a commitment on the spot was always going to lead to high turnover. Even the inertia of direct debits (EFT) can't save us if a donor isn't inspired to stay.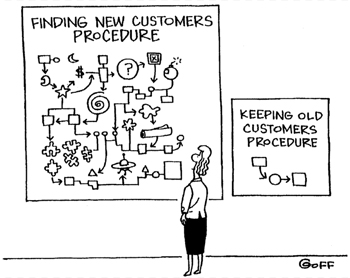 Two intimately-connected aspects of our fundraising affect donor retention more than any others.
The experiences our donors get, particularly in the early stages of the relationship.
The influence of the people who deliver those experiences.
Which explains why retention levels vary so widely from organisation to organisation. Some get this very much better than others.
The case for retention fundraising
We all have to shell out, up front, to acquire donors, even if just to replace those we've lost. For fundraisers, spiralling acquisition costs are a cast iron certainty in an uncertain world. The danger for the future of our sector is that acquisition costs have escalated to such a height they're now really hard to justify. The main reason for this is that, averagely, fundraisers don't keep their donors long enough to recover that original outlay with sufficient margin or certainty.
So what does it cost these days to acquire a new donor?
Such is the diversity of methods and circumstances that the only valid answer is, 'how long is a piece of string?' Two things can be said with certainty. It's too much. And it's getting more expensive by the day. Meanwhile the so-expensively acquired existing donor file atrophies steadily too, as donors are leaving all the time.
Recently I asked some fundraising friends to share their current costs of new donor acquisition from a range of sources. The results were varied, none were great and few were improving. The cost to recruit a regular donor face-to-face seems to have shot up recently from around £120 to upwards of £160. Responses via mobile phone to a £5 ask can cost £90 a time. A two-step strategy to convert these to a regular donor can cost from £142 to £164. A regular £3 donor recruited by radio ads might cost anywhere from £76 to nearly double that. Tests that don't work often cost much more, which leads to the false economy of less testing. The danger is, these are the accepted norms now.
You do the sums. With costs like these and donors giving £2, £3, or £5 per month, how long will it take before any of the donor's money actually goes to the cause he or she thinks she's supporting?
Yet even this commercial fact of life might not necessarily be over hard to justify as long as these so-expensively acquired donors stay long enough and give enough for the charity to recoup its investment within a time frame that a reasonable donor would consider to be reasonable too.
How that word 'reasonable' is defined is a moot point. Donors may well view it differently to fundraisers, or economists. For each the definition is being stretched, dangerously. For many, breaking point may not be far away. Average donation values have increased over time too, of course, but not by enough. When it gets too expensive for fundraisers to replace the donors they're losing our organisations will have truly eaten their seed corn.
What's this got to do with 'Proud to be a fundraiser'?
A lot, I think. Because unless our sector can fix this it'll be really hard for any of us to be truly proud of what we do. Unless donor service across the sector improves massively from the experiences shown by countless 'mystery shopping' tests, it will be stretching the point for any of us to claim we're proud to be fundraisers. Unless the people who deal with donors can consistently deliver the stimulating experience that donors need to keep them inspired, it's unlikely we'll do more than tinker at the margins of today's costly haemorrhaging of potential lifelong donors.
And that's just not good enough for anyone who's proud to be a fundraiser.
Continued at column two, above top.