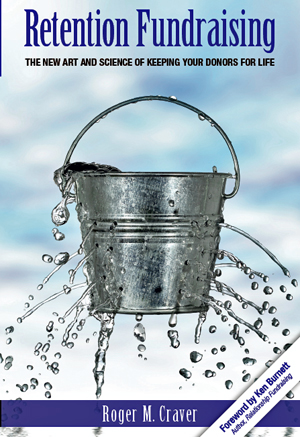 Retention Fundraising, by Roger M Craver
An edited extract from the foreword by Ken Burnett
Our not-for-profit sector is bleeding to death. We're hemorrhaging donors, losing support as fast as we find it, seemingly condemned forever to pay a fortune just to stand still.
It's time we stemmed the flow.
Let me say this as simply as I possibly can.
Our sector desperately needs to take decisive, effective action to stem donor attrition. It's costing our causes and all who depend upon them billions of dollars every month. It's limiting, even stifling the great work we do. It's a sure sign of disillusioned, depressed and deterred donors, our leaking lifeblood. It saps and diminishes our sector, which is a tragedy because we should be society's jewel in this jaded world.
Yet fundraisers routinely put up with it, as if massive attrition were a fundraising fact of life.
It isn't. Roger Craver says so. I'm sure he's right.
Here, in your hands, you now hold the answer to this gargantuan ongoing catastrophe. The big question – now you know the problem and you've grasped the potential solution – is, can you – yes, you reading this page now – can you do anything about it?
I'm not sure you can.
Because donor attrition seems to have stumped most of your peers. What's more, it's getting more serious, not less. The new donors you'll need to find to replace those you've lost today will cost more now than they did yesterday. That they'll cost even more tomorrow is scant consolation…
Roger Craver's book could scarcely be more timely. Let's use it as a rallying call. Our sector – nonprofit organizations – doesn't need more pundits, number crunchers, data geeks, social media gurus or consultants. These people are ten a penny and their impact has been limited at best. What we need is world-changers.
Cracking donor retention is a worthy challenge for any would-be world-changer. As Roger's book shows, there's so much for him or her to get stuck into. They're all detailed in this book.
The formula for fundraising magic is simple: retention + commitment = increased lifetime value. It isn't a wild dream. We just have to be as committed to it as we'd wish our donors would be, to us.
The statistics of donor attrition are set out in this book's opening pages. They're shocking. If you think that's good enough, that we're doing OK, well, bully for you. You'll probably get a promotion and a pay rise.
I think you should be fired.
Because good enough isn't anywhere near good enough for fundraisers. The leaking bucket is a sign of monumental failure in our profession. All who preside over such pallid performance deserve to be fired. Really. Unless you're ready to change this, move over, get out of the way and give your place to someone who can implement the change our sector so desperately needs….
More follows. Order your copy of Retention Fundraising here.